Homebuilt Homepage
Homebuilt Aircraft
Builder & Fan Pages
Keith Kent's Kolb Firestar II
---
This is a beauty, my fourth home built. All soft rounded edges (ailerons, rudder, elevators, and wingtips). Aluminum sheeting on leading edges of wings. S-curved verticle stabelizer. Many other custom features. It will be flying this season. This is by far my finest plane. I'm so excited, I can hardly sit still!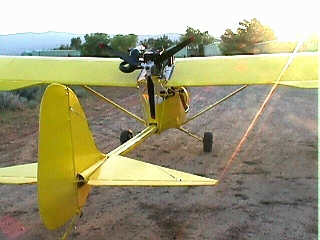 Click on this photo to see an expanded version.
The engine is a Rotax 503, 3 blade sport prop, R&D Exhaust, Auto Comp. carburetors. It's currently located in Incline Village (Lake Tahoe), Nevada, United States.
Email: keith@sierra.net
---
Return to Builder & Fan Pages
Return to Homebuilt Aircraft
Return to Homebuilt Homepage