Homebuilt Homepage
Homebuilt Aircraft
Builder & Fan Pages
The Poosemoth Page
---
Built by Folis Jones
Click on any photo to see an expanded version.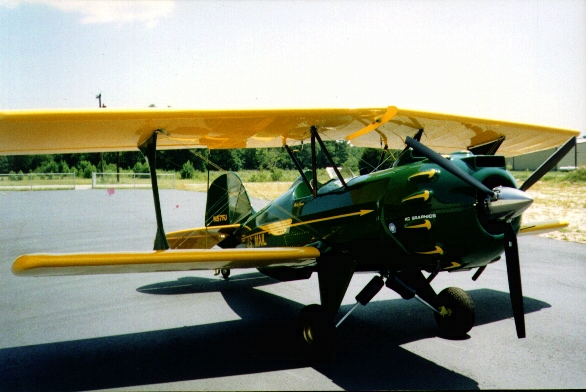 The Poosemoth started life off as a Murphy Renegade Spirit biplane. After extensive modifications, it was completed and designated N57FJ. The Poosemoth won "Best Experimental" at 1996 Franklin (VA) Fly-in, the first airshow it attended. We took our time building. Construction took six years or so. All test hours have been completed, and has 44 hours total time. The Poosemoth is stable in all spheres and a joy to fly!
It was an older model finished with thicker materials than the later ones. It has fiberglass fairings and aluminum access panels to all critical areas. All interior metal was primed with two-part epoxy. The finish is AirTech poly-urethane in British Racing Green and Yellow. The windscreen is a three panel antique and the front cockpit has a custom snap-in place cover so it looks like a single seater. McWhyte streamlined stainless steel flying wires were used on the wings and tail rather than the standard cable. The tail is supported by a Lange full swivel tailwheel. Roll rate is boosted by four ailerons with an electric trim system
The seats and rudder are custom made.
The engine is a 1800cc Subaru EA-81 by Formula Power with a Reductions PSRU with a 1.84 to 1 ratio. The AirFlow Performance mechanical fuel injection has dual high pressure pumps. Coils and modules for a true dual ignition system are mounted inside the aircraft away from the heat of the engine. The propeller is a 70" Warp Drive prop. Cooling is enhanced by an external oil cooler fed by AeroQuip braided stainless steel lines. The engine is mounted on a custom cushioned engine mount in yellow polyeurathane, behind a stainless steel firewall.
The Poosemoth has a complete custom instrument panel with all the necessary gauges for a water cooled engine, including dual EGT's. It also has a 760 channel Bendix-King radio, transponder with full mode C, ELT, Flybuddy Loran, and remote electrical compass. The instrument panel has rear access.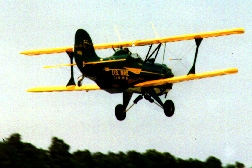 The Poosemoth was built by Folis Jones. Folis, 62, served the United States for twenty years in the Navy as a Submariner. Currently he is the Chief Psychologist with Virginia Department of Corrections. He has 25 years experience racing SCCA big bore Formula cars.
Folis is married with three children and seven grandchildren. His wife, a Civil Engineer, did all the fabric covering on the Poosemoth. They share their home in Suffolk, Virginia with two Jack Russel Terriers and two Greyhounds.
Email: N57FJ@compuserve.com
---
Return to Builder & Fan Pages
Return to Homebuilt Aircraft
Return to Homebuilt Homepage