Homebuilt Homepage
Kits And Plans
Eklund Engineering, Inc.
---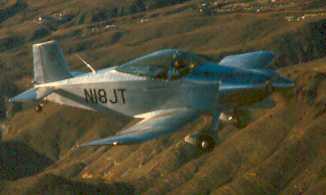 Eklund Engineering, Inc. is an aero-mechanical consulting firm which holds the rights to the Thorp T-18 and John Thorp's engineering legacy. The Thorp T-18 was designed by John Willard Thorp as the first good all metal homebuilt design. The two place side by side design was first envisioned as an open cockpit, uncowled, simple to build sport plane to use the converted Lycoming O-290G ground power engine. It soon grew into a high performance design which incorporated pressure cowl, canopy and slotted flaps. The T-18 can use any of the Lycoming engines in the following series: O-290, 320, 340, 360.
Click here for information on plans, kits and more pictures.
---
Futher information is available from:
Eklund Engineering, Inc.
19960 Elliott Road
P.O. Box 1510
Lockeford, CA 95237-1510
Phone: 209-727-0318
Fax: 209-727-0873
Email: thorpt18@jps.net
---
Return to Kits And Plans
Return to Homebuilt Homepage